ABOUT OUR SPACE
The intention of creating our studio is to bring our community together to connect, grow and expand to become more together then we can be on our own. We look forward to your offering being in alignment with this vision.

AVAILABILITY
MONDAY – FRIDAY
6:30PM – 9PM
FRIDAY
12:30PM – 4:30PM
SATURDAY & SUNDAY
11:30AM – 9PM
*availability is subject to change, please inquire.
EVERY EVENT INCLUDES
TEN FOLDING CHAIRS

YOGA MATS & BLOCKS

YOGA BLANKETS

MEDITATION BOLSTERS

MEDITATION CUSHIONS

WIFI

BLUETOOTH SPEAKERS

FLAT SCREEN TV

AIR CONDITIONING

WHITEBOARD
COMFORTABLY SEATS
40 PEOPLE
BOOKING DETAILS
*The rental fee can be paid at the Center or Studio via credit card or by phone at least 14 days before the day of your event and before any promotion will begin. This fee is for holding the reservation of the space as well as at times canceling our regular classes. For this reason, we don't offer full refunds of the space or last minute cancellations due to lack of participants.
ADVERTISING
LET US PROMOTE YOUR EVENT!
We offer a promotional package to be featured in our e-newsletter, printed schedule, social media and ability to have your event flyer displayed.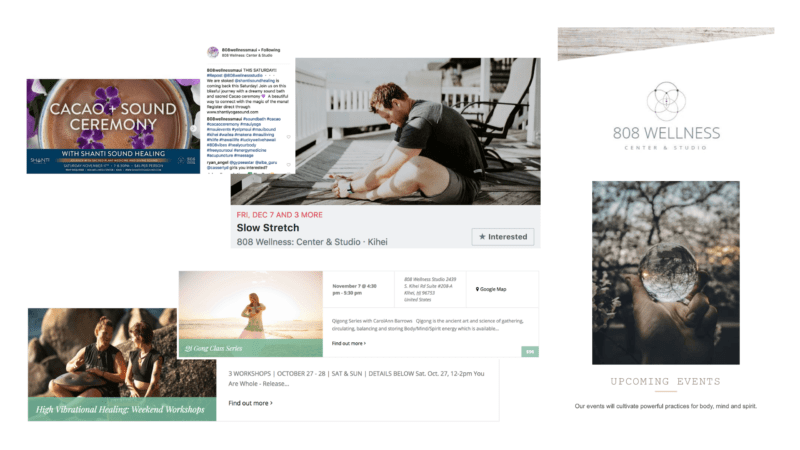 SUBMIT YOUR INQUIRY
Mahalo for your interest in 808 Wellness Studio for your event! Fill out our event inquiry form for consideration, and we will follow-up with you within 48 hours.
OPENING TIMES
MONDAY – FRIDAY 9:00 A.M. ~ 6:00 P.M.
SATURDAY 10:00 A.M. ~ 5:00 P.M.
SUNDAY 12:00 P.M. ~ 5:00 P.M.